The White House draft of its amnesty plan has dropped a key piece of the immigration plan. The Anti-Sanctuary Cities Act has been stricken from the proposed plan. Can someone explain why that has happened? Did IQ's just suddenly drop while I was out for a cup of coffee? Maybe there is a secondary program that we do not know about. The president has the Democrats back to the wall over the government shutdown they ran. they do not have the immigration moral high ground that they thought they had. The President can write his own ticket. So why the change?
As Written and Reported By John Binder for Breitbart: 
A draft of an amnesty plan for illegal aliens by White House advisers specifically excludes cracking down on sanctuary city jurisdictions, which harbor criminal illegal aliens from federal immigration officials.
In a draft copy obtained by Breitbart News of the White House's plan to give potentially millions of illegal aliens a pathway to U.S. citizenship, a portion of the plan strikes through in red ink provisions that would punish sanctuary cities for harboring criminal illegal aliens by cutting off certain federal grants and aid.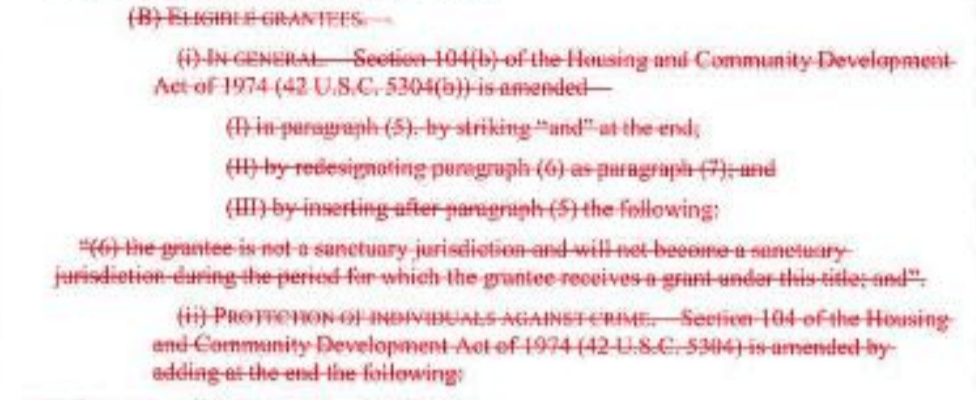 Former Koch brothers executive Marc Short, who previously led the failed "Never Trump" effort inside the pro-mass immigration billionaires' network, helped craft the White House draft plan, along with Chief of Staff Gen. John Kelly, Department of Homeland Security (DHS) Secretary Kirstjen Nielsen, and senior adviser Stephen Miller.
Breitbart News's copy of the plan reveals that Sen. Pat Toomey's (R-PA) "Stop Dangerous Sanctuary Cities Act" was stripped from the draft. Toomey's sanctuary city provisions would prohibit sanctuary cities from receiving certain economic development grants from the federal government.
The White House draft plan includes….
KEEP READING THERE IS WAY MORE HERE:
Sanctuary City Crackdown Excluded from WH Immigration Draft Plan – Breitbart